Light, flaky wafers layered with smooth, cream filling and Italian hazelnuts…our mouths are watering just thinking about these Hazelnut Quadratini from 2018 Kids Food Festival Official Sponsor Loacker! Loacker exclusively uses Italian hazelnuts to deliver top-notch flavor; and we can't get enough of it! Loacker uses a gentle roasting process for their hazelnuts that gives a unique (and delectable!) flavor. This sweet treat is the perfect balance of light, crispy wafers and rich creamy chocolate filling that the whole family will love. And, the bite sized treats are perfect not only for kids, but also for being mindful of portions.
From the Mouth of a Kid:
These cookies are my favorite! I love how tiny and cute they are!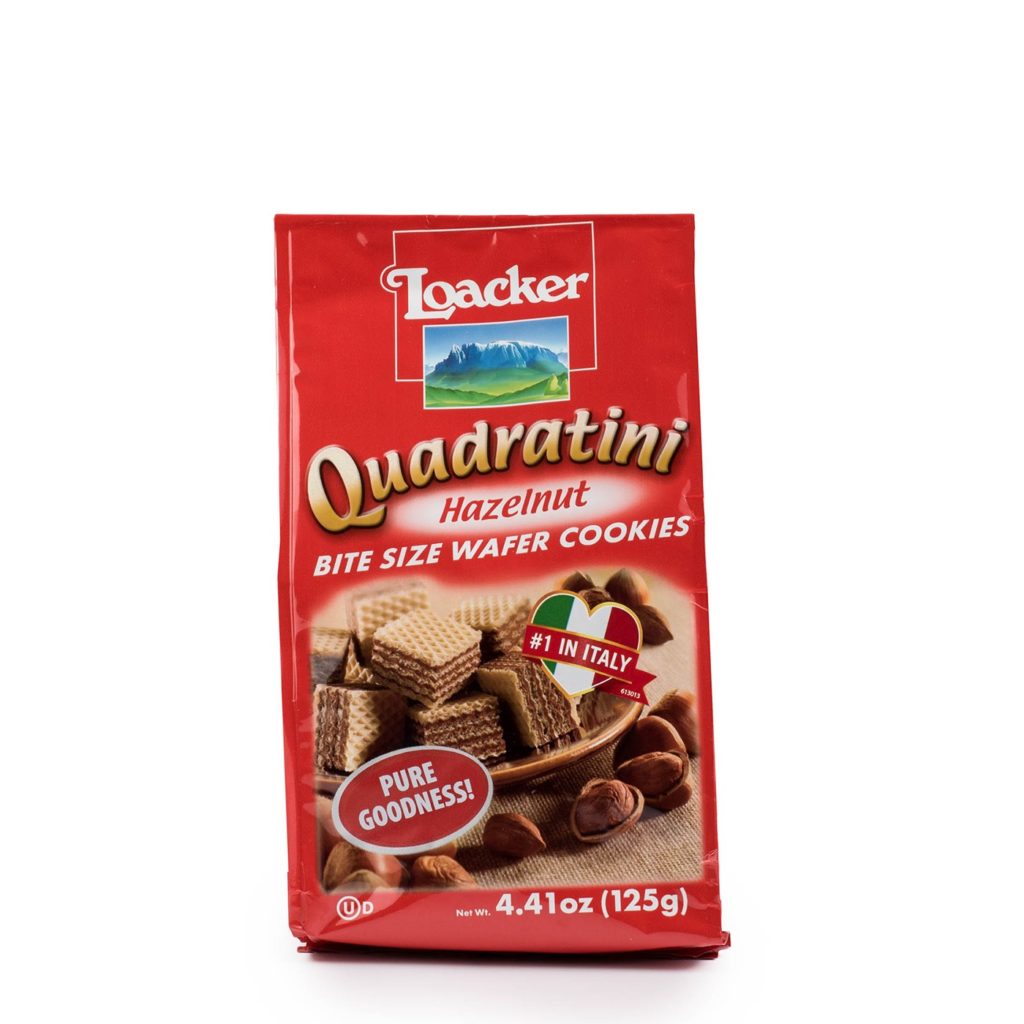 From the Eyes of a Parent:
I love when I find snacks for my family that are made with high-quality ingredients and just taste great. These Loacker Hazelnut Quadratini fit the bill for my family – they're perfect for little fingers, and aren't overly sweet. My husband and I adore them too! The small-sized bags are great to throw in my bag for an afternoon outing – or for the kids to to share for a treat after an afternoon of sports.  
Flavorful Features:
Loacker Quadratini come in a variety of yummy flavors, one for every palate in your family:
Chocolate
Dark Chocolate
Vanilla
Lemon
Coconut
Cappuccino
Tiramisu
Espresso
Raspberry Yogurt
Blueberry Yogurt
Cocoa & Milk
The Icing on the Cake:
Loacker uses premium ingredients to create a perfect treat for you and your family: non-hydrogenated coconut oil, chocolate made from classic raw ingredients, and there's no colorings or preservatives!
Time to Eat?!
Loacker Hazelnut Quadratini are perfect for a light dessert or sweet treat whenever you're craving something rich but not too heavy.
Good to Go?
Pop the small back of Loacker Quadratini into a lunchbox, backpack, or purse for any-time snacking on the go!
Mix it Up!
Crush these up to use as your next pie crust! Or, swap out lady fingers for Loacker Quadratini when you make Tiramisu!

https://www.facebook.com/LoackerUSA/?brand_redir=1629950640649664
The Creative Kitchen™, LLC, teaches children about food and how to cook in a fun, safe, and educational manner. Targeting families with children ages two to teen, the company focuses on teaching, writing creative content and curriculum, special events, recipe development, spokesperson work, webisode production and consulting to present educational and entertaining content through food-related activities. The founder, Cricket Azima, is an expert in cooking for and with children. She inspires kids to express themselves creatively through food and cooking, while complementing lessons with traditional educational material such as social studies, math, arts, science, and more. Visit

www.thecreativekitchen.com

for more information.
Related posts