Little hands and fingers love Loacker's Quadratini, bite-sized crunchy cubes that are layers of crispy wafers and smooth cream filling! However, by no means are they just for kids; the whole family will want their share! Natural, carefully selected ingredients combine to make an unrivaled and delicious flavor experience! These bite-sized, crunchy cubes are layered with light, crispy wafers and smooth cream filling. Loacker is dedicated to sourcing the highest-quality ingredients to produce an extraordinary recipe that you'll be reaching for time and time again! The Creative Kitchen is happy to have Loacker as a sponsor of the Kids Food Festival To-Go children's museum tour, a mini version of the flagship NYC 2-day Kids Food Festival. Learn more about the national tour here!
From the Mouth of a Kid:
I like to take apart the layers before eating them!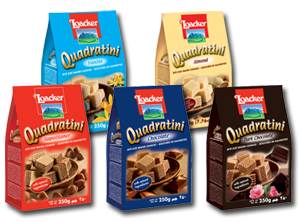 From the Eyes of a Parent:
Loacker's Quadratini are a great, bite-sized sweet treat that I'm happy to give to my family because of the naturally-sourced ingredients. And lucky for me, there's a wide variety of flavors so I can please all my kids' palates. With a bag of Loacker's Quadratini in my bag, I'm no doubt the most popular mom at school pickup! All it takes is a few of these better-for-you treats to satisfy the kids' sweet tooth…and mine!
Flavorful Features:
Loacker's Quadratini come in 12 delicious flavors:
Vanilla
Chocolate
Dark Chocolate
Napolitaner
Lemon
Coconut
Blackcurrant
Cappuccino
Tiramis

ú

Espresso
Raspberry-Yoghurt
Cocoa & Milk
The Icing on the Cake:
With Loacker products, you get the promise of :
No artificial colorings
No preservatives
No added flavorings
No hydrogenated fats
Time to Eat?!
Any time you need a nibble of sweetness!
Good to Go?
Quadratini come in bags that are re-sealable and great for on the go snacking!
Mix it Up!
Use the cubes like building blocks and see who can make the tallest tower!

http://www.loacker.com/int/en/
https://www.facebook.com/LoackerUSA/?ref=br_rs&brand_redir=1629950640649664
The Creative Kitchen™, LLC, teaches children about food and how to cook in a fun, safe, and educational manner. Targeting families with children ages two to teen, the company focuses on teaching, writing creative content and curriculum, special events, recipe development, spokesperson work, webisode production and consulting to present educational and entertaining content through food-related activities. The founder, Cricket Azima, is an expert in cooking for and with children. She inspires kids to express themselves creatively through food and cooking, while complementing lessons with traditional educational material such as social studies, math, arts, science, and more. Visit

www.thecreativekitchen.com

for more information.
Related posts