Looking for an organic multivitamin that you won't forget to take? Try Nature Dynamics' BodyBoost Women Multivitamin Gummy! BodyBoost Women Multivitamin Gummies provide all of the vitamins and minerals your body needs for optimum health, plus they taste so good you'll actually look forward to taking them every day! These chewy multivitamins are made with whole foods, organic fruits and vegetables, and a full spectrum of vitamins and minerals specially formulated to support bone and breast health, manage stress, and improve memory. Best of all, Nature Dynamics BodyBoost Women Multivitamin Gummies are organic and contain all-natural colors and flavors.
From the Eyes of a Parent:
Why should kids have all the fun when it comes to gummies? Unlike traditional vitamins, Body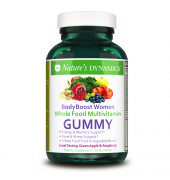 Boost Women Multivitamin Gummies are sweet like candy and can be taken on the go without water. When I take two a day, I know that I'm getting plenty of Vitamin B, Vitamin C, Iron, Calcium, and Iron as well as the goodness of organic fruits, vegetables, flax, and spices.
Flavorful Features:
Each bottle of BodyBoost Women Multivitamin Gummies contains green apple and raspberry flavored gummy vitamins. Nature's Dynamics also makes gummy vitamins specially formulated for men, kids, and even pets!

The Icing on the Cake:

BodyBoost Women Multivitamin Gummy are organic, non-GMO, gluten-free, dairy-free, and BPA-free.
Good to Go?

Keep a bottle in your car, on your desk, or in your bag – since these gummies don't require water, you can take them any time, anywhere!

The Creative Kitchen™, LLC, teaches children about food and how to cook in a fun, safe, and educational manner. Targeting families with children ages two to teen, the company focuses on teaching, writing creative content and curriculum, special events, recipe development, spokesperson work, webisode production and consulting to present educational and entertaining content through food-related activities. The founder, Cricket Azima, is an expert in cooking for and with children. She inspires kids to express themselves creatively through food and cooking, while complementing lessons with traditional educational material such as social studies, math, arts, science, and more. Visit

www.thecreativekitchen.com

for more information.
Related posts