When we find a new snack that we know both parents and kids will love, we can't wait to spread the word! Nurturme's Organic Ancient Grain Cookies 

boast wonderful nutritional qualities that parents will love and fun flavors and shapes that will keep the kids coming back for more! 

These cracker-sized cookies not only taste delicious, but they are packed full of protein and immune-boosting antioxidants. Each serving also delivers a daily dose of probiotics, which help balance your good and bad bacteria – this keeps your body working the way it should and can help ease the symptoms of certain digestive problems. Nurturme's cookies were also specifically designed with sensitive stomachs in mind, which is why they are both gluten and dairy free.
From the Mouth of a Kid:
I like these cookies because they have cool pictures on them!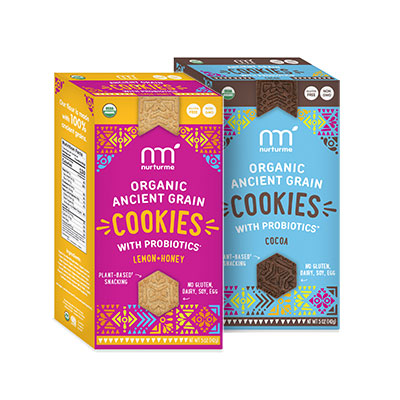 From the Eyes of a Parent:
Nurturme cookies are a lunchbox staple in our household. Not only do they taste great, but I feel comfortable giving them to my kids, especially because I know they're getting their daily dose of probiotics! The kids love them because they taste delicious and each cookie has a fun ancient design, which I like to use as a chance for a mini history lesson when they let me! You can't go wrong with these cookies – we especially love the cocoa ones!
Flavorful Features:
Nurturme's Organic Ancient Grain Cookies come in two delicious flavors: Cocoa and Lemon + Honey.
The Icing on the Cake:
These individually packed snacks act as the perfect lunchbox treat. They're certified organic, non-GMO, and kosher. The four ancient grains in each cookie are also great for growth and development. Quinoa has all nine essential amino acids while amaranth has proven to improve brain development. Moreover, millet and sorghum aid in muscle and heart health while also building strong bones.
Time to Eat?!
Grab a bag to go in the car or snack on some cookies after lunch!
Good to Go?
Nurturme Organic Ancient Grain Cookies are great to take on the go for wholesome snacking throughout the day!
Mix it Up!
Crumble up these delicious cookies and use them as the base for your next pie or tart as a substitute for graham cracker crumbs. You won't taste a difference but you'll definitely feel it!
www.nurturme.com/collections/ancient-grain-cookies/
www.facebook.com/nurturme?fref=ts
The Creative Kitchen™, LLC, teaches children about food and how to cook in a fun, safe, and educational manner. Targeting families with children ages two to teen, the company focuses on teaching, writing creative content and curriculum, special events, recipe development, spokesperson work, webisode production and consulting to present educational and entertaining content through food-related activities. The founder, Cricket Azima, is an expert in cooking for and with children. She inspires kids to express themselves creatively through food and cooking, while complementing lessons with traditional educational material such as social studies, math, arts, science, and more. Visit

www.thecreativekitchen.com

for more information.
Related posts