The Creative Kitchen really enjoys

NurturMe

products, especially their Quinoa Squares Organic Puffed Crackers. These quinoa squares are loaded with nutrients that help toddlers and children grow and develop. Quinoa is one of the few non-animal based complete proteins, providing your little ones with all essential and nonessential amino acids as well as fiber, vitamins, minerals, and omegas. They are natural, certified organic, gluten-free, non-GMO, and kosher without any added salts, sugars, or preservatives.
We're so happy to include NurturMe in our goody bags for our Kids Cooking Series at Whole Foods Market NYC!
From the Mouth of a Kid:
I like the cinnamon ones the best. They are sweet and crunchy.

From the Eyes of a Parent:

I couldn't believe these flavorful crackers have so few ingredients. Without any added sugars or preservatives, these crackers are light and tasty. I really like that they're also hypoallergenic; gluten, dairy and soy free!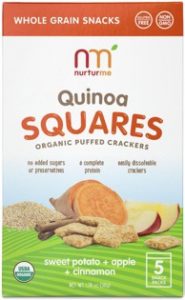 Flavorful Features:
Nuturme Quinoa Squares come in a variety of flavors including:
-Cheddar and Broccoli
-Pineapple and Spinach
-Sweet Potato, Apple, and Cinnamon

The Icing on the Cake:
With 100% naturally occurring plant-based ingredients, these puffy crackers are a nutritious alternative to snacks made with synthetic nutrients, which can cause indigestion. Plant based ingredients are digested easier than synthetic ingredients and improve baby's overall nutrient absorption.
Good to Go?
Each box of Quinoa Squares comes with 5 separately packaged snack size bags for your toddler or young kids.
Time To Eat!?
Skip the potato chips! Packed with protein, fiber, and omegas these Quinoa Squares are a great nutritious snack to tide your little ones over between meals.
The Creative Kitchen™, LLC, teaches children about food and how to cook in a fun, safe, and educational manner. Targeting families with children ages two to teen, the company focuses on teaching, writing creative content and curriculum, special events, recipe development, spokesperson work, webisode production and consulting to present educational and entertaining content through food-related activities. The founder, Cricket Azima, is an expert in cooking for and with children. She inspires kids to express themselves creatively through food and cooking, while complementing lessons with traditional educational material such as social studies, math, arts, science, and more. Visit

www.thecreativekitchen.com

for more information.
Related posts