What's sweet, crunchy, and the perfect portable snack? Organic crunchy rice rollers, that's what. This snack puts a fun and sweet twist on the classic rice cake as a handheld treat perfect for an on-the-go snack. With only six ingredients and three grams of sugar, these rollers are a simple and wholesome snack perfect to throw into your kids' lunchbox. All Crunchy Rollers products are vegan, gluten-free, certified organic, and non-GMO, making mom feel good about giving them out for a quick snack.
From the Mouth of a Kid:
It tastes like my favorite cereal, so sweet!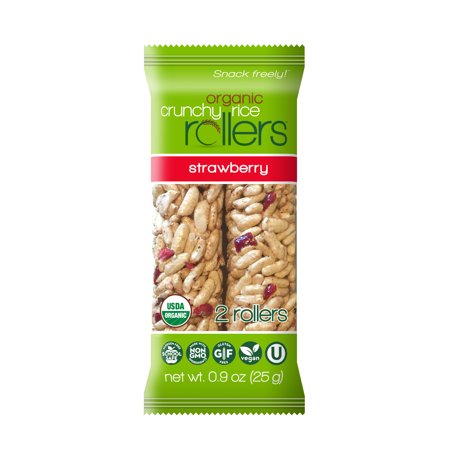 From the Eyes of a Parent:
My kids never stop moving so sometimes it's hard to get them to sit still for snack time. This is when Crunchy Rollers comes in handy! These rice snacks fit perfectly in my little ones' hand, making it easy for them to munch as they go. The kids enjoy the taste and I feel good knowing they are getting whole grains and eating something with simple and clean ingredients. These snack rollers pacify the kids' sweet tooth, but are low in sugar, making it a win-win for both mom and kid.
Flavorful Features:
Crunchy rollers come in six different varieties:
Strawberry

Mixed berry

Caramel sea salt

Apple cinnamon

Banana maple

Original brown rice
The Icing on the Cake:
The main ingredient in Crunchy Rollers is organic whole grain brown rice, and with only three grams of sugar this is a guilt-free snack perfect for when you or your kid are craving a sweet treat.
Time to Eat?!
Not enough time for breakfast? Crunchy Rollers are the perfect on-the-go option for the trip to school.
Good to Go?
This two pack of rollers is the perfect size to throw in your purse or kids' backpack.
Mix it Up!
Dip in chocolate hazelnut spread and roll in dehydrated strawberries to satisfy that chocolate-covered strawberry sweet tooth.

www.facebook.com/crunchyrollers
The Creative Kitchen™, LLC, teaches children about food and how to cook in a fun, safe, and educational manner. Targeting families with children ages two to teen, the company focuses on teaching, writing creative content and curriculum, special events, recipe development, spokesperson work, webisode production and consulting to present educational and entertaining content through food-related activities. The founder, Cricket Azima, is an expert in cooking for and with children. She inspires kids to express themselves creatively through food and cooking, while complementing lessons with traditional educational material such as social studies, math, arts, science, and more. Visit

www.thecreativekitchen.com

for more information.
Related posts