Baking your favorite treats just got easier! The Creative Kitchen loves using Scratch & Grain baking kits because of the convenience, variety of mixes, and natural ingredients. High quality ingredients that are perfectly measured out make it easy to create baked goods that taste homemade! These heavily-tested combinations are made will all-natural and organic ingredients; after all, better ingredients make better food, right? Scratch & Grain baking kits are family-friendly and made from scratch. You'll only need a few common kitchen ingredients, and you're on your way to delicious cookies, cupcakes, and more. You won't even notice that the Chocolate Truffle Cookies are gluten-free!
From the Mouth of a Kid:
I help mommy make yummy chocolate cookies!


From the Eyes of a Parent:
When I don't have the time to make cookies from scratch, these Scratch & Grain baking mixes are a lifesaver! They taste complete homemade, and I love the natural ingredients; they're exactly the ingredients I would use. I was so glad to see so many gluten-free options; they really taste just like the versions with gluten! The gluten-free Chocolate Truffle Cookies are a favorite in our house!
Flavorful Features:
Scratch & Grain provides numerous baking kits:
Chocolate Chip Cookie
Sugar Cookie
Holiday Sugar Cookie
Oatmeal Raisin Cookie
Gluten-Free Chocolate Truffle Cookie
Gluten-Free Snickerdoodle Cookie
Confetti Cupcake & Cake
Coffee Cake & Muffin
Organic Pumpkin Bar
Gluten-Free Honey Cornbread
Gluten-Free Cheesecake Brownie
The Icing on the Cake:
Every recipe has been heavily tested to provide you with a flawless combination of ingredients! Each ingredient is perfectly measured out and individually packaged, and each baking kit comes with easy-to-understand instructions. Every recipe uses gourmet ingredients, and only requires you to add a few common kitchen staples to complete the recipe! They're also customizable to your own tastes; you can substitute your favorite nut for the recommended nut, or omit them completely if someone in the family doesn't like nuts!
Time to Eat?!
With recipes for snacks, desserts, sides, and breakfast, Scratch & Grain has something for everyone every time of day! Have a Chocolate Truffle Cookie as a sweet afternoon pick-me-up, or a Coffee Cake Muffin in the morning!
Good to Go?
Want to bring some muffins or cookies down to the beach house with you this summer? Bring a box (or two!) of your favorite Scratch & Grain baking kits for super convenient and easy baking!
Mix it Up!
Customize your favorite baking mix by adding chocolate or cinnamon chips, or another favorite ingredient!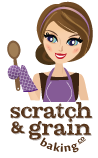 https://www.scratchandgrain.com
https://www.facebook.com/ScratchAndGrain
The Creative Kitchen™, LLC, teaches children about food and how to cook in a fun, safe, and educational manner. Targeting families with children ages two to teen, the company focuses on teaching, writing creative content and curriculum, special events, recipe development, spokesperson work, webisode production and consulting to present educational and entertaining content through food-related activities. The founder, Cricket Azima, is an expert in cooking for and with children. She inspires kids to express themselves creatively through food and cooking, while complementing lessons with traditional educational material such as social studies, math, arts, science, and more. Visit

www.thecreativekitchen.com

for more information.
Related posts