Have you ever wanted something that will make it easier to get your kids excited about eating their fruits and vegetables? Sticky Lickits edible stickers are The Creative Kitchen's favorite thing to make eating fruits and vegetables that much more enjoyable. These edible stickers are exactly what they sound like – stickers that are edible! You peel it off, stick it on your favorite piece of fruit or vegetable, and then they instantly dissolve in your mouth. Sticky Lickits have no sugar, no GMO's, no soy, no dairy, no peanuts or tree nuts, and no artificial ingredients! Little eaters can maximize their fruit and veggie fun by choosing a sticker of their liking and use them whenever they want to spruce up an apple, pear, or baby carrot.
From the Mouth of a Kid:
My apple tastes extra yummy!
From the Eyes of a Parent:
I've never thought about the idea of having an edible sticker but now that I've tried it, they make eating fruits and vegetables so much more fun – definitely an entertaining dining activity!. Sticky Lickits are such a creative and enjoyable way to eat our fruits and veggies and my kids look forward to sticking them on their fruits every day.
Flavorful Features:
Sticky Lickits edible stickers come in many designs:
Sesame Street

Paw Patrol

SpongeBob Squarepants

Doodle Dums

Making Faces
Time to Eat?!
Sticky Lickits make things simple. All you do is peel off the sticker, lick it, and stick it onto whatever fruit or vegetable you want to eat, any time of day!
www.facebook.com/stickylickits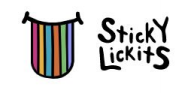 The Creative Kitchen™, LLC, teaches children about food and how to cook in a fun, safe, and educational manner. Targeting families with children ages two to teen, the company focuses on teaching, writing creative content and curriculum, special events, recipe development, spokesperson work, webisode production and consulting to present educational and entertaining content through food-related activities. The founder, Cricket Azima, is an expert in cooking for and with children. She inspires kids to express themselves creatively through food and cooking, while complementing lessons with traditional educational material such as social studies, math, arts, science, and more. Visit

www.thecreativekitchen.com

for more information.
Related posts