Here at The Creative Kitchen, we are always looking for ways to be efficient in the kitchen while still maintaining a level of healthy deliciousness! Tater Gator, the world's first vegetable gripper, is a product that makes meal prep easy and safe for all members of the family. It is made out of a tough BPA and latex free composite material that protects fingers and grips vegetables, so you can say goodbye to those sliced fingers and dropped veggies!
From the Mouth of a Kid: 
When I use this, Mommy and Daddy let me peel and cut food to make dinner with them! I like to help them make our dinner. 
From the Eyes of a Parent:
Tater Gator is a lifesaver for busy nights when I'm quickly trying to chop a dozen things at once for dinner. I used to slice my fingers quite often while meal prepping, but with this product that never happens anymore! Tater Gator protects my younger children's fingers, which puts me at ease when I let them help with dinner.
The Icing on the Cake:
Tater Gator is a must-have for anyone who loves to cook. Here are some of its flavorful features:
Slips on your thumb and index finger with ease.
Protects your fingers from cuts and scrapes.
Grips slippery vegetables for easy peeling.
Easy to clean and dishwasher safe.
One size fits all!
Latex, BPA, and PVC free.
Time to Eat?!
Let Tater Gator help you with meal prep any time of the day! This product can also help professional chefs and kitchens save time and waste when speedily meal prepping for customers!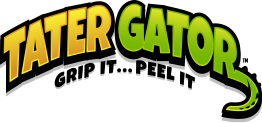 https://www.facebook.com/TaterGator/
The Creative Kitchen™, LLC, teaches children about food and how to cook in a fun, safe, and educational manner. Targeting families with children ages two to teen, the company focuses on teaching, writing creative content and curriculum, special events, recipe development, spokesperson work, webisode production and consulting to present educational and entertaining content through food-related activities. The founder, Cricket Azima, is an expert in cooking for and with children. She inspires kids to express themselves creatively through food and cooking, while complementing lessons with traditional educational material such as social studies, math, arts, science, and more. Visit

www.thecreativekitchen.com

for more information.
Related posts