Ketchup that's good for you?

 True Made Foods Low Sugar Vegetable Ketchup is indeed a nutrient-dense ketchup! It has 50% less sugar than the leading brand of ketchup, PLUS added vegetables like carrots, butternut squash, and spinach. This ketchup is made from 100% natural ingredients, and has no artificial sweeteners! The squeeze bottle is perfect for little hands to add this healthful ketchup to their favorite foods! We are thrilled to have True Made Foods as a Supporting Sponsor of the 2019 NYC Kids Food Festival on May 11 + 12. Visit the KFF website to learn more!
From the Mouth of a Kid:
This ketchup is awesome! I like to squeeze the bottle!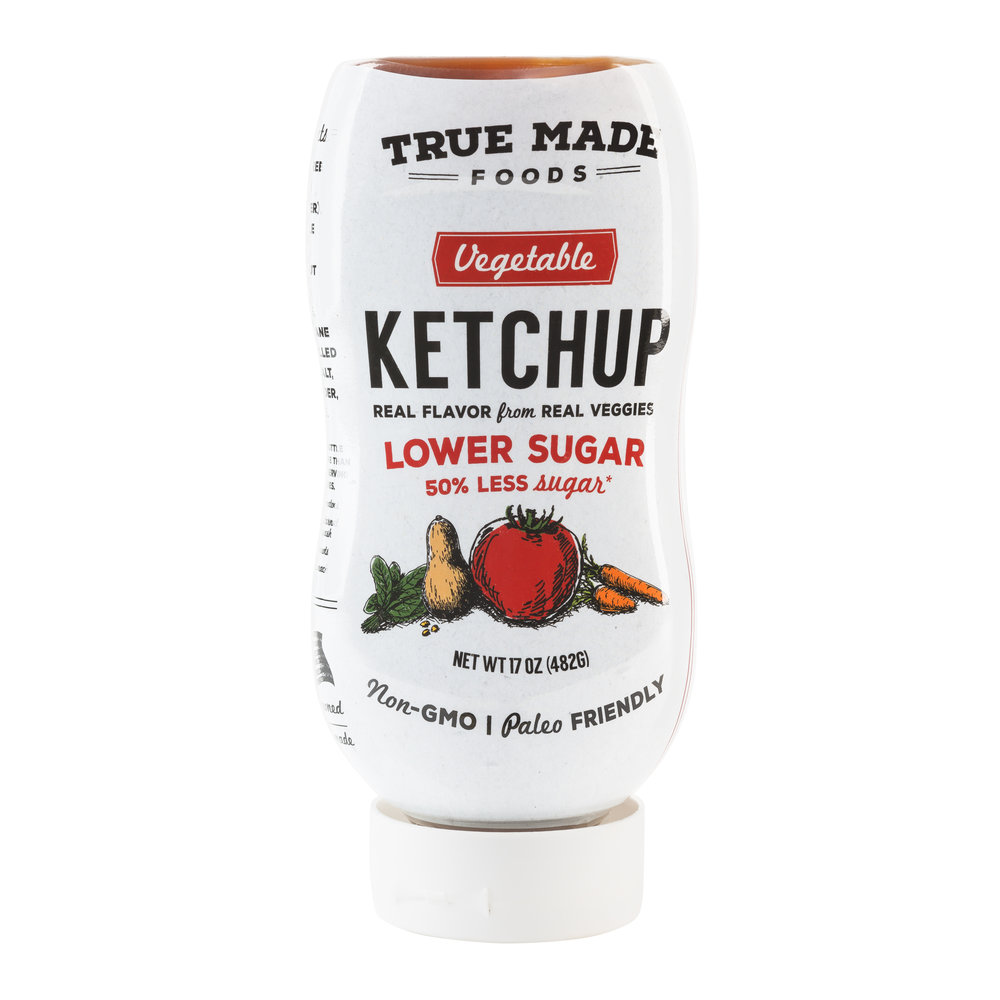 From the Eyes of a Parent:
I usually have the kids limit how much ketchup they use since typical brands's ketchup contain so much sugar! Separately, I'm always looking for ways to get my kids to eat more vegetables. This nutrient-dense ketchup from True Made Foods is a great way to do that! With less than 2 grams of sugar, I don't have to worry when they enjoy it on their food. And with an easy-to-use squeeze bottle, my kids can learn to be independent with their meals without making a mess for me to clean up. It's an all-around win-win product for our family!
Flavorful Features:
True Made Foods also makes a Vegetable Ketchup with no added sugar. In addition, they have a Low Sugar Pitmaster BBQ Sauce and a Veracha Vegetable Siracha.
The Icing on the Cake:
True Made Foods Low Sugar Vegetable Ketchup has no high fructose corn syrup, artificial colors, or preservatives, and is certified Paleo-Vegan. It's also naturally sweetened with real vegetables! True Made Foods sources their vegetables from family farms in eastern North Carolina, and uses purees made from the undersized and "ugly" produce in order to create extra income for the farmers.
Time to Eat?!
True Made Foods Vegetable Ketchup is the perfect condiment for adding flavor and veggies to your child's breakfast, lunch, or dinner.
Mix it Up!
Kids will love dipping raw or roasted veggies into this ketchup!

www.facebook.com/TrueMadeFoods
The Creative Kitchen™, LLC, teaches children about food and how to cook in a fun, safe, and educational manner. Targeting families with children ages two to teen, the company focuses on teaching, writing creative content and curriculum, special events, recipe development, spokesperson work, webisode production and consulting to present educational and entertaining content through food-related activities. The founder, Cricket Azima, is an expert in cooking for and with children. She inspires kids to express themselves creatively through food and cooking, while complementing lessons with traditional educational material such as social studies, math, arts, science, and more. Visit

www.thecreativekitchen.com

for more information.
Related posts