Beef up your lunchboxes with these delectable treats and see where convenience meats delicious! Vermont Smoke & Cure's BBQ Beef Sticks are easy to take with you on the go and are the perfect protein-packed snack for when you need something filling to keep you and your family satisfied between meals. They're gluten-free, dairy-free, nut-free, and are made without preservatives and sodium nitrate!
From the Mouth of a Kid:
I love when I get these beef sticks in my lunchbox!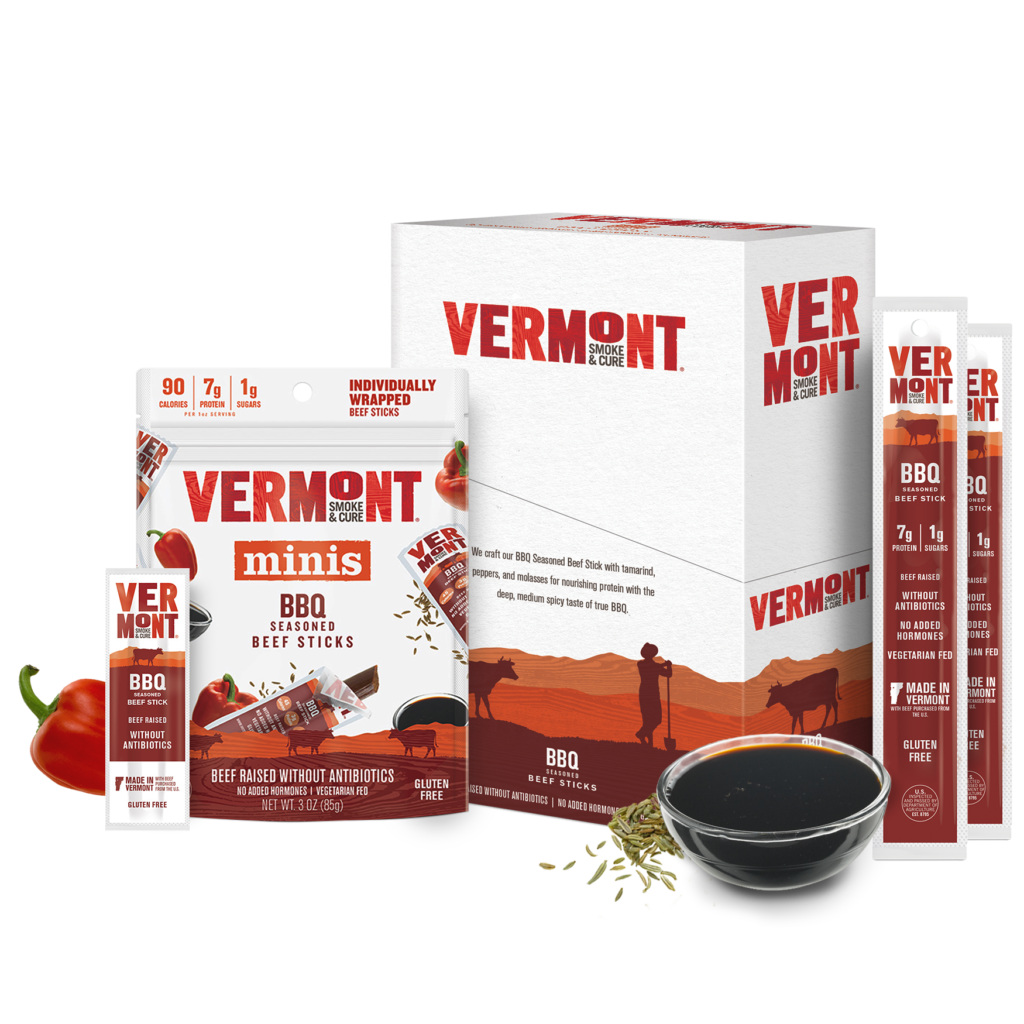 From the Eyes of a Parent:
Spicing up your child's lunchbox when you're super busy is so convenient with these BBQ Beef Sticks from Vermont Smoke & Cure! The beef is raised with no added hormones or antibiotics, and are vegetarian fed, so I feel much more comfortable sharing them with my kids. It's hard to find a high-protein snack that my kids like, so I'm so happy I found these; I even love them too! They're a great, filling snack to pack in our bags for travel, or even busy days when we're out for a long time.
Flavorful Features:
Check out these other awesome meat sticks from Vermont Smoke & Cure:
Grass-Fed Jalapeño Lime Beef

Grass-Fed Maple Teriyaki Beef

Original Beef & Pork

Uncured Pepperoni Turkey

Chipotle Beef & Pork

Uncured Bacon Pork

Ancho Pepper Turkey

Honey Mustard Turkey

Spicy Italian Pork
The Icing on the Cake:
Vermont Smoke & Cure's beef is raised without antibiotics and added hormones, and is vegetarian fed! This is a gluten-free, dairy-free, and nut-free snack that's high in protein (and flavor!).
Time to Eat?!
Vermont Smoke & Cure's BBQ Beef Sticks are the perfect quick bite to nibble on when you're hungry for a savory snack in between meals or after school…it can be a great addition to lunch, too, for a boost of protein!
Good to Go?
These individually-packaged meat sticks are perfect to slip into your purse or backpacks! There's even mini-sized ones for little foodies who don't want the full size!
Mix it Up!
Get a balanced snack by complementing these beef sticks with cheese sticks or a handful of veggies. Get creative and stack cut pieces of the beef and cheese sticks on coffee stirrers to make mini skewers!

The Creative Kitchen™, LLC, teaches children about food and how to cook in a fun, safe, and educational manner. Targeting families with children ages two to teen, the company focuses on teaching, writing creative content and curriculum, special events, recipe development, spokesperson work, webisode production and consulting to present educational and entertaining content through food-related activities. The founder, Cricket Azima, is an expert in cooking for and with children. She inspires kids to express themselves creatively through food and cooking, while complementing lessons with traditional educational material such as social studies, math, arts, science, and more. Visit

www.thecreativekitchen.com

for more information.
Related posts