Viki's Granola started out as a simple homemade recipe that grew into a business after its major success at a school fundraiser. The Blueberry Almond Granola has only six ingredients, all of which are all-natural, gluten free, and non-GMO verified. Because of the simple and healthful ingredients in Viki's Granola, it's easy for parents to feel good about giving it to their kids for a sweet treat to snack on.
From the Mouth of a Kid:
I like how crunchy this is! And it's also really sweet and yummy.
From the Eyes of a Parent:
It's great to have a snack in the house I can enjoy as much as my children! I like to add Viki's Blueberry Almond Granola to yogurt before running out to the school bus in the morning. My kids love it with milk for breakfast or even as an after school snack, which I feel good about because of the natural ingredients. Viki's Granola makes it easy to satisfy my gluten-free child's sweet tooth.
Flavorful Features:
Viki's Granola comes in several varieties, so it's great for every mood:
Original

Blueberry Almond

Maple Cranberry

Banana Walnut

Apple Cinnamon
The Icing on the Cake:
Viki's Granola also adheres to dietary restrictions such as kosher, sodium-free, and dairy-free diets. There are no preservatives, 0g of trans fat, and only 5g of sugar, so it's easy to stay on a low-sugar diet with their granola.
Time to Eat?!
Viki's Granola can be added to yogurt or milk at breakfast, and makes a great after-school snack. Try a small handful after dinner for a sweet dessert that's low in sugar and not too filling.
Good to Go?
Throw some into a container or bag and munch as you go!
Mix it Up!
Chop or blend some of Viki's Original Granola to use as a sweet alternative to breadcrumbs!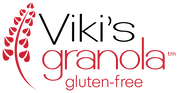 vikisfoods.com
https://www.vikisfoods.com/blueberry-almond
The Creative Kitchen™, LLC, teaches children about food and how to cook in a fun, safe, and educational manner. Targeting families with children ages two to teen, the company focuses on teaching, writing creative content and curriculum, special events, recipe development, spokesperson work, webisode production and consulting to present educational and entertaining content through food-related activities. The founder, Cricket Azima, is an expert in cooking for and with children. She inspires kids to express themselves creatively through food and cooking, while complementing lessons with traditional educational material such as social studies, math, arts, science, and more. Visit

www.thecreativekitchen.com

for more information.
Related posts