While we usually scream for strawberry rhubarb pie during the warm summer months, this season The Creative Kitchen is screaming for strawberry rhubarb yogurt! Noosa yogurt is made with simple, fresh ingredients that pack a lot of flavor into each cup! With over a dozen delectable flavors, there's one for every set of taste buds in your house. Some more feel-good facts: Noosa uses the highest quality honey, and is dedicated to reducing its environmental impact by reducing, reusing, and recycling as much as they can!
From the Mouth of a Kid:
I love this yogurt! Blueberry is my favorite!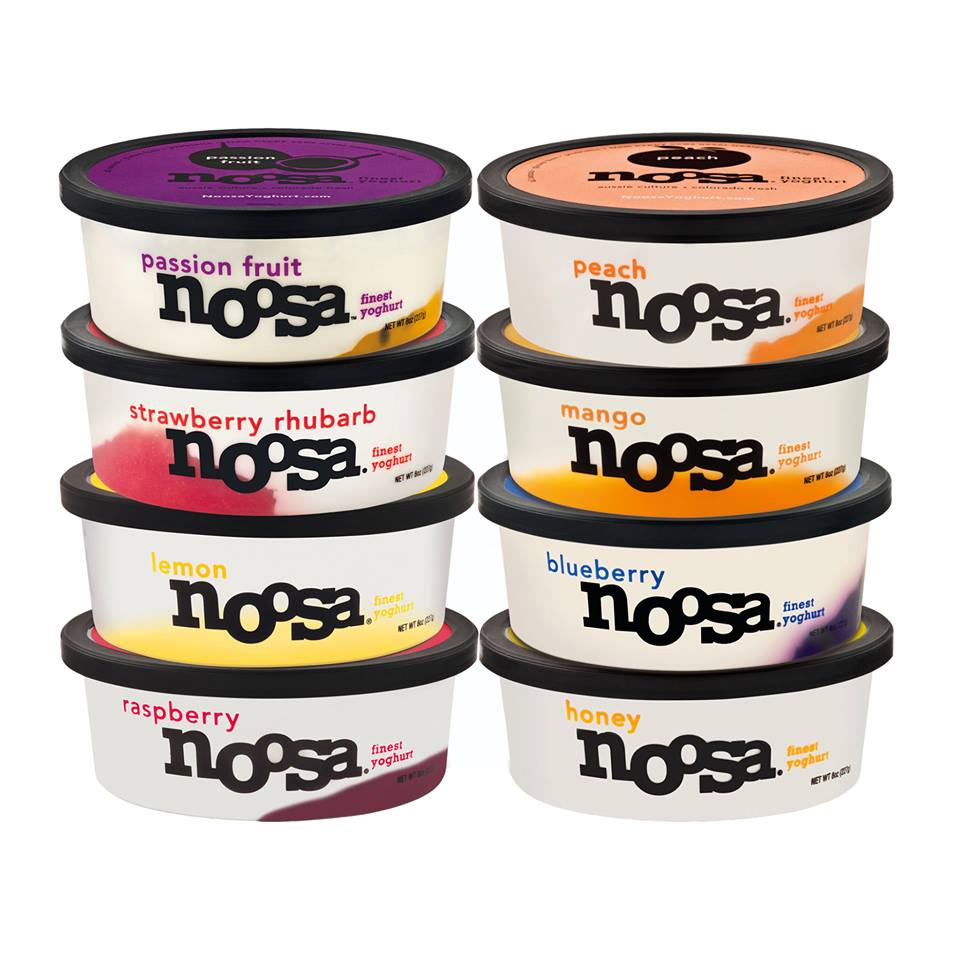 From the Eyes of a Parent:
My kids have very different tastes, but thankfully breakfast and snack time are made easy with Noosa's wide variety of flavors! My kids each have their own favorite flavors and simply can't get enough of them! My favorite flavor is the strawberry rhubarb; what a delicious combination of different flavors!
Flavorful Features:
Check out all of Noosa's fabulous flavors:
Blueberry
Strawberry Rhubarb
Raspberry
Pumpkin
Tart Cherry
Peach
Blood Orange
Key Lime
Lemon
Passion fruit
Pineapple
Coconut
Mango
Honey
Plain
Orange & Ginger
Strawberry & Hibiscus
Pear & Cardamom
Cherry Vanilla
Apple
Mango Sweet Chili
Raspberry Habanero
Pineapple Jalapeño
Blackberry Serrano
Mexican Chocolate
Salted Caramel
Vanilla
The Icing on the Cake:
Noosa yogurt is free of GMOs, and sources its milk from dairy farms that keep its cows healthy and happy!
Time to Eat?!
Grab a cup of Noosa yogurt for a quick but filling breakfast, or skip the ice cream truck after school and give the kids their favorite Noosa flavor!
Good to Go?
Noosa yogurt cups are perfect for the kids' lunchboxes, or for a quick on-the-go breakfast when you're short on time.
Mix it Up!
Open up your favorite cup of Noosa yogurt, stir until combined, then throw the lid back on and put it in the freezer overnight. The next day, enjoy a "homemade" frozen yogurt; a delectable afternoon treat! 🙂

https://www.facebook.com/noosayoghurt/?hc_ref=SEARCH
The Creative Kitchen™, LLC, teaches children about food and how to cook in a fun, safe, and educational manner. Targeting families with children ages two to teen, the company focuses on teaching, writing creative content and curriculum, special events, recipe development, spokesperson work, webisode production and consulting to present educational and entertaining content through food-related activities. The founder, Cricket Azima, is an expert in cooking for and with children. She inspires kids to express themselves creatively through food and cooking, while complementing lessons with traditional educational material such as social studies, math, arts, science, and more. Visit

www.thecreativekitchen.com

for more information.
Related posts