Classes at the Downtown Community Center on Cooking For — And By — Children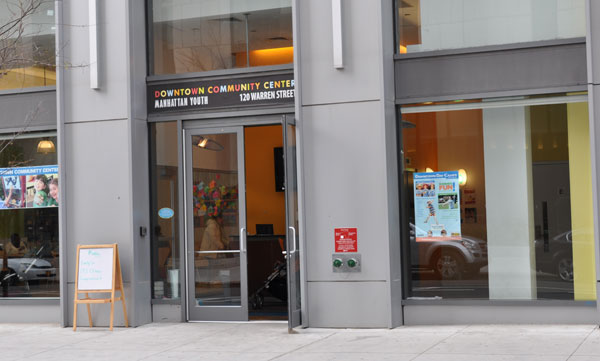 One of the ways in which Manhattan Youth takes the "community" part of its Downtown Community Center (DCC) literally is by taking inspiration for program ideas from members.
In DCC's latest program, "The Creative Kitchen," member and creator Cricket Azima will bring cooking classes on baby food to new parents, and introduce cooking to toddlers, as well as special needs children and their families.
Alex Roche, DCC's director, said, "when a community member comes to us and asks how they can get involved, we sit down and brainstorm with him or her, and talk about what we see that relationship looking like. Our program with Cricket came out of that conversation."
Ms. Azima, co-founder of the Kids Food Festival, just finished wrapping up the Festival's first event last Saturday and Sunday in Bryant Park. As with the Festival, Ms. Azima's classes at DCC will make healthy eating habits accessible to young children."We've been running cooking classes as part of our after-school program for the last three and a half to four years," said Mr. Roche. "As our population of pre-school users and their families has grown at the Center, so has the need for a daytime cooking program. This is a natural expansion of our infant and toddler curriculum — ceramics, tumbling, swimming and music. It seemed like a no-brainer to add it to our daytime program."
The Creative Kitchen's "Feeding Baby" and "Fun Foods for Toddlers" will begin their first sessions next week. In "Feeding Baby," Ms. Azima and her team will help new parents make a freezable stockpile of baby food, and learn efficient food preparation strategies, timing for feeding certain foods, and cooking methods with a baby in arms. The first session is on Thursday, February 2 (10 to 11am). The program will run for four weeks at a cost of $150 for members, and $250 for non-members. Two more sessions will run in March, and mid-April to mid-May.
"Fun Foods for Toddlers" is designed to bring age-appropriate recipes to toddlers and their families, with a special focus on themes, colors, numbers and shapes. Parents will learn techniques for getting toddlers to help-out in the kitchen and incorporating new and/or healthy foods into the family's diet. The first session is Thursday, February 2 (11am to noon). The program runs eight weeks at $180 per session for members, and $295 for non-members. There is also a discount for registering for Session I and Session II together.
A third program, "Everybody Can Cook," aims to teach special-needs children how to cook while learning independence and developmental skills, as well as creating flavorful food. The class will run from noon to 1:30pm on February 12, March 25, April 22 and May 20, at a cost of $140 for members and $220 for non-members.
For more information about all three programs (or for registration materials), e-mail Morgan Geyer at morgan@manhattanyouth.org. The Creative Kitchen plans to keep class sizes small, from 10 to 12 children, or a size dictated by the needs of the children enrolled. For more information visit manhattanyouth.org.
Dianne Renzulli
top photo by Robert Simko

additional photos by Ghazalle Badiozamani
To view the original article click
here. 
Related posts