When it comes to a healthful snack for kids, cookies aren't always the top choice. But with cookies in the shape of letters and chock full of fruits and vegetables, interactive packaging, and creative and exciting games on their website,

Bitsy's Brainfood

is a company that is super kid-friendly and a great choice for all to eat. We especially love their Sweet Potato Oatmeal Raisin Smart Snacks, because they're delicious, nutritious, and a whole lot of fun!
From the Mouth of a Kid:
These letter cookies are fun to play with and taste yummy! And I like collecting the fun stickers that come in each box.
From the Eyes of a Parent: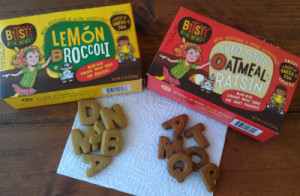 I love that these cookies are made with real fruits and vegetables like sweet potato and raisins, and have Omega-3s. They give a boost of extra nutrients to my kids, and best of all, they taste great! Plus, all Bitsy's Brainfood Smart Snacks are oven-baked in a peanut-free facility so I don't have to worry about any allergies.
Flavorful Features:
Bitsy's Brainfood Smart Snacks are available in the following flavors:
Lemon Broccoli

Zucchini Gingerbread Carrot

Sweet Potato Oatmeal Raisin

Chocolate Orange Beet
The Icing on the Cake: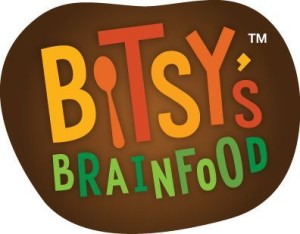 All Bitsy's Brainfood Smart Snacks are made with no GMOs, and lots of organic ingredients like whole-wheat flour, brown sugar, and oats. The cookies are a good source for Folic Acid, Iron, Vitamin B12, and much more. Plus, they contain Omega-3 EPA and DHA (32 mg per serving), and soluble fiber from oats.
Good to Go?
Yes! The box is easy to throw in kids' backpacks to snack on during the day, or to take with the family while out running errands.
Time to Eat?!
Anytime! The Smart Snacks are an easy post-lunch or dinner dessert, or on-the-go snack with a tall glass of milk.
Mix It Up!
Make eating these cookies a game by encouraging kids to try to find a word to spell before they can eat!
The Creative Kitchen™, LLC, teaches children about food and how to cook in a fun, safe, and educational manner. Targeting families with children ages two to teen, the company focuses on teaching, writing creative content and curriculum, special events, recipe development, spokesperson work, webisode production and consulting to present educational and entertaining content through food-related activities. The founder, Cricket Azima, is an expert in cooking for and with children. She inspires kids to express themselves creatively through food and cooking, while complementing lessons with traditional educational material such as social studies, math, arts, science, and more. Visit www.thecreativekitchen.com for more information.
Related posts