Spook-ghetti
This recipe is part of the Kids Food Festival Halloween kitchen crafts and cooking class on October 31st, 2020! Get more information here!
Equipment:  
Adult cutting board 

Adult knife 

Children's cutting board (The Creative Kitchen suggests a small cutting board or reusable plastic or paper plate), 1 per child 

Children's knife (The Creative Kitchen suggests a plastic knife for younger children, while older children may be able to use a sharper knife), 1 per child 

Large mixing bowl (The Creative Kitchen suggests individual, sealable plastic sandwich bags if individual portions are preferred – whether for hygiene or simply  because little chefs enjoy creating their own!) 

Mixing spoon 
Ingredients:  
1 pound witches hair (cooked whole wheat spaghetti – use squid ink for extra  spooky witch hair!) 

Eyeballs (1 cup black olives, pitted and ½ pound mozzarella bocconcini, or ½ pound  mozzarella cheese)  

Zombie fingernails (2 orange bell peppers, washed) 

1 broomstick (zucchini or cucumber, washed) 

Skeleton Tears (1 pint orange grape tomatoes, washed) 

Olive oil, to taste  

Salt and pepper, to taste 
Directions:
In large mixing bowl, place cooked witches hair and set aside.
If using bocconcini: Cut mozzarella into 1⁄4 inch pieces and slice olives and add to bowl, reserving a handful of bocconcini and a handful of olives to create eyeballs to place on top as garnish (see photo below).  Alternatively – If using traditional mozzarella: dice mozzarella and slice olives. Add to bowl.
Dice zombie fingernails and add to bowl.
Slice broomsticks into 1⁄4 inch round slices and add to bowl. Reserve a handful of round slices for adults to create "jack-o'-lanterns" by carefully using a paring knife to carve eyes and a mouth (see photo below).
Cut skeleton tears into quarters and add to bowl
Add olive oil to taste and stir to combine.
Add salt and pepper to taste and stir to combine.
Garnish with eyeballs and jack-o'-lanterns.
Grab a pitchfork and enjoy!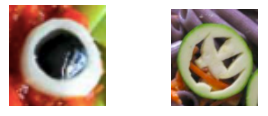 Check out our social media pages!
The Creative Kitchen™, LLC, teaches children about food and how to cook in a fun, safe, and educational manner. Targeting families with children ages two to teen, the company focuses on teaching, writing creative content and curriculum, special events, recipe development, spokesperson work, webisode production and consulting to present educational and entertaining content through food-related activities. The founder, Cricket Azima, is an expert in cooking for and with children. She inspires kids to express themselves creatively through food and cooking, while complementing lessons with traditional educational material such as social studies, math, arts, science, and more. Visit

www.thecreativekitchen.com

for more information.
Related posts