RecipeAfter every Thanksgiving, there's always a ton of delicious leftovers. One of the best ways to combine almost all of the dishes from the Thanksgiving meal is to combine them into a hearty, savory pie! This recipe by Cricket Azima and The Creative Kitchen combines leftover mashed potatoes, turkey, and vegetable side dishes into a delicious Shepard's Pie in just a few simple steps. The recipe is so versatile, you can throw in a combination of whatever scraps you have left in your fridge! Serve it up with cranberry sauce or gravy to use up even more of your leftovers!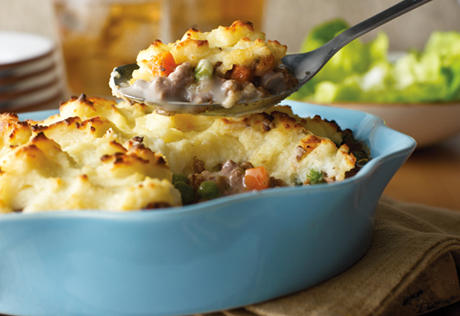 Image credit: Campbell's
Ingredients:
4 cups leftover mashed potatoes
4 cups cooked and shredded turkey
2 cups cooked vegetables, such as green beans or squash
2 tsp. tomato paste
1 yellow onion, diced
1 cup chicken or beef broth
½ tbsp. fresh rosemary, chopped
½ tbsp. fresh thyme, chopped
1 tbsp. olive oil
½ cup grated Parmesan cheese
Salt & pepper to taste
Instructions:
1. Preheat oven to 350°.
2. Heat olive oil in a large sauté pan. When hot, add onion and cook for about 3 minutes.
3. Add cooked vegetables and turkey to pan and heat through for 2 minutes. Then add tomato paste and herbs, stir to combine.
4. Pour in chicken broth and bring to a simmer. Cook for another 5 minutes until slightly thickened. Season with salt and pepper to taste.
5. In an oven safe glass pie dish or small casserole dish, pour in sautéed ingredients and top with mashed potatoes and Parmesan cheese.
6. Bake in oven for 30-40 minutes or until golden brown.
7. Optional: serve with cranberry sauce and gravy.
Tips & Tricks:
• Use what you have! Don't have fresh rosemary or thyme? Any fresh, or even dried, herbs will go great with this dish – it is all about using your leftovers after all!
• Make it a skillet pie! To keep yourself from washing an extra dirty dish, make the filling in an ovenproof skillet. Then simply top it off with the mashed potatoes and cheese and pop the skillet in the oven for baking.
The Creative Kitchen™, LLC, teaches children about food and how to cook in a fun, safe, and educational manner. Targeting families with children ages two to teen, the company focuses on teaching, writing creative content and curriculum, special events, recipe development, spokesperson work, webisode production and consulting to present educational and entertaining content through food-related activities. The founder, Cricket Azima, is an expert in cooking for and with children. She inspires kids to express themselves creatively through food and cooking, while complementing lessons with traditional educational material such as social studies, math, arts, science, and more. Visit www.thecreativekitchen.com for more information.
Related posts