Reading is a great way to get your little chefs' imaginations going! The Creative Kitchen has been digging into a book that's super delicious and will appeal to all of your young foodies: The World's Greatest Chocolate Covered Pork Chops! Twelve-year-old Zoey Kate is the best cook in San Francisco and she wants to share her delectable recipes with everyone in town…by opening her own restaurant…on an actual working trolley cart! Zoey quickly learns, however, that the restaurant business is no piece of cake! With some help from her family and friends, Zoey's restaurant turns into an instant hit, but along the way she makes some enemies that want her to fail. Zoey will have to use her quick wit to overcome sabotage that threatens the success of her restaurant. Will she succeed? Pick up a delicious copy to find out!
From the Mouth of a Kid:
Chef Zoey makes me want to be a chef and cook yummy recipes!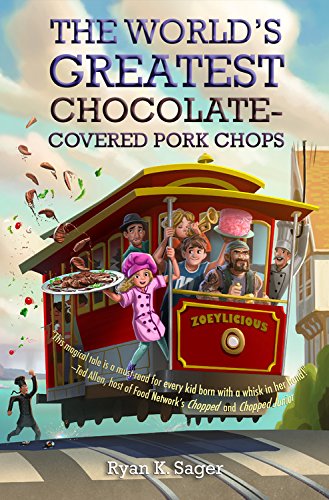 From the Eyes of a Parent:
My kids loved this book! It's all about food, which they love, and it's exciting but taught them some great life lessons about perseverance and following your dreams. After reading, they wanted to go straight into the kitchen and get cooking just like Chef Zoey! We enjoyed trying out the recipes (in the back of the book) together as a family!
Flavorful Features:
This exciting tale of a young chef will keep you and your future foodies on your toes! With lots of humor, larger-than-life characters, and flavorful foods, this fun cooking story will appeal to young foodies everywhere!
The Icing on the Cake:
This book features three delectable recipes in the back of the book that you can cook together as a family!
Buy it on Amazon here.
The Creative Kitchen™, LLC, teaches children about food and how to cook in a fun, safe, and educational manner. Targeting families with children ages two to teen, the company focuses on teaching, writing creative content and curriculum, special events, recipe development, spokesperson work, webisode production and consulting to present educational and entertaining content through food-related activities. The founder, Cricket Azima, is an expert in cooking for and with children. She inspires kids to express themselves creatively through food and cooking, while complementing lessons with traditional educational material such as social studies, math, arts, science, and more. Visit

www.thecreativekitchen.com

for more information.
Related posts