Looking for some kitchen inspiration from the top tastemakers in the wellness movement? The

Thrive Market Communal Table Cookbook

has you covered! This beautiful, informative, and completely FREE cookbook features more than 60 recipes from the country's top names in health and wellness. The most trusted names in health—including Mark Sisson, Katie from Wellness Mama, Chris Kresser, Robb Wolf, Dr. Mark Hyman, JJ Virgin and more—reveal their favorite dishes, all made with wholesome, affordable ingredients. Hungry for more?
Click here

to get your copy, plus a 30 day free trial to Thrive and 25% off your first purchase!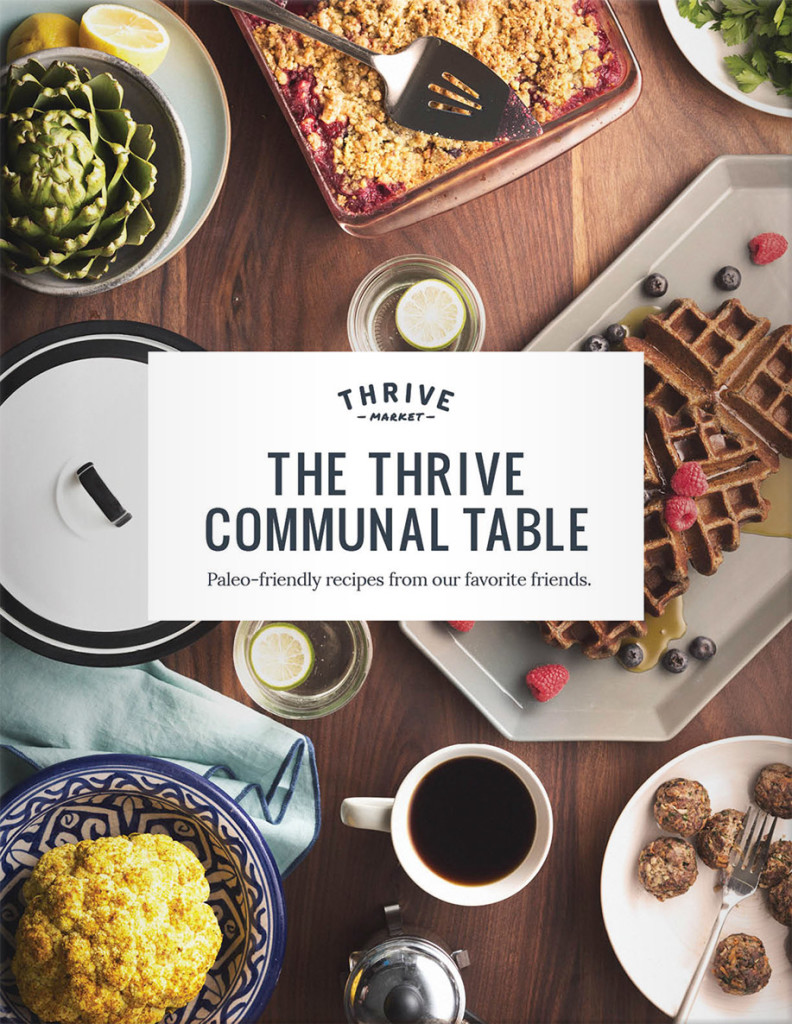 60+ Real Food Recipes for FREE From Top Experts

Inside the book, you'll find:

Simple and delicious recipes from 14 of the most trusted names in health and wellness including best-selling authors, the country's leading physicians, and the most popular bloggers and education experts.
60+ recipes for everything from breakfast smoothies, simple side dishes, protein-packed main courses, and clean desserts
Easy-to-follow instructions so simple even a novice cook can follow
Our helpful guide to saving on essential ingredients and pantry staples
Here's a sample of some of the recipes you'll find inside:
Homemade Coconut Granola by Wellness Mama
Primal Egg Coffee by Nourished Kitchen
Blueberry and Macadamia Smoothie by Chris Kresser
Prosciutto-wrapped mini frittata muffins by Nom Nom Paleo
Tropical Turmeric Tonic by Dr. Junger
Tahini Tuna Salad by Mary Shenouda
Paleo Crab Cakes by Healing Gourmet
Slow Cooker Pork Stuffed Peppers by Mark Sisson
Paleo Hazelnut-Crusted Halibut by Chris Kresser
Roasted Spice Rubbed Chicken Thighs by JJ Virgin
Sweet Potato And Kale Coconut Curry Soup by Kitchen Confidential
Saffron Tomato Confit by What's Gaby Cooking
Rosemary Citrus Twice Baked Sweet Potatoes by Robb Wolf
Coconut Butter Cups by Wellness Mama
Guilt-Free Chocolate Mousse by Dr. Mark Hyman
And dozens more…
The Creative Kitchen™, LLC, teaches children about food and how to cook in a fun, safe, and educational manner. Targeting families with children ages two to teen, the company focuses on teaching, writing creative content and curriculum, special events, recipe development, spokesperson work, webisode production and consulting to present educational and entertaining content through food-related activities. The founder, Cricket Azima, is an expert in cooking for and with children. She inspires kids to express themselves creatively through food and cooking, while complementing lessons with traditional educational material such as social studies, math, arts, science, and more. Visit www.thecreativekitchen.com for more information.
Related posts