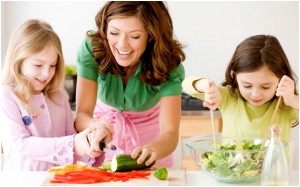 How can you prevent childhood obesity or help your overweight child bring his weight into a healthy range? To answer this question, the USDA and the Weight-control Information Network (WIN) have provided some palatable tips.The three ideas you want to keep in mind to combat obesity are healthy eating, exercise, and social support.
Healthy Eating 
To encourage healthy eating, it is important that you set good examples for your child. Here are some tips:

Buy healthy foods. Give your child fruits and veggies instead of high-calorie food. Let your child choose which fruits and veggies you buy – this will make it more likely your child will eat them!

Eat breakfast.

Making sure your child eats breakfast will give her more energy for her daily activities and prevent hunger cravings that often lead to junk food indulgence.

Substitute high-calorie drinks like sodas for drinks like 100% fruit juice or better yet, water!

Do not use food as a reward. If you give your child dessert as a reward for eating salad, your child will think that the dessert is more valuable and will like it more than the salad.
Exercise 
Exercising is a great way to keep your child both happy and healthy. Try these tips:

Encourage your child to start an exercise activity.

If your child joins a sport team, dance class, etc. he can have fun while staying healthy. Don't force your child to do something he does not like. Instead, let him try a few activities until he finds something he likes.

Be a good role model.

If your child sees you and the rest of your family having fun exercising, she will want to join in the fun. Family activities are great, such as riding bikes, so you can all have fun together!

Have your child exercise one hour each day.

 This can come in spurts, such as a 15-minute walk here, and a 15-minute bike ride there.

Discourage inactivity.

Limit TV and do not let your child snack while watching TV – this can lead to mindless eating.
Social Support 
Healthy eating and exercise are great, but your love and support while encouraging healthy habits are just as important.

Tell your child you love him.

If your child feels loved, he will be happier and more likely to follow your healthy examples.

Accept your child's weight.

If you suspect your child is overweight, contact your healthcare provider who will be able to determine if your child's weight is in the healthy range.
If your child is overweight, potentially consider a weight-control program. If your child is having emotional difficulties with her weight, this might be a good option. Make sure to consult with your health professional before starting any weight-control programs.
As a little reminder, think HEALTH: 
Healthy eating 
Exercise 
Acceptance 
Love and support 
Time for fruits and veggies 
Have breakfast
For more tips on combating childhood obesity, visit the USDA online. 
The content of this post is courtesy of the Kids Food Festival, LLC. The Kids Food Festival is dedicated to educating families about making balanced food choices through fun and flavorful activities. Learn more at www.KidsFoodFestival.com. 
Related posts