As part of a paid sponsorship, I recently teamed up with the health and wellness experts at GOLO to develop a series of recipes inspired by their Metabolic meal plan.
Since it's summertime, I wanted to focus on recipes that take advantage of the range of fresh seasonal ingredients that are more abundant this time of year, like tomatoes, red peppers, avocados, and cilantro. I also "leaned in" on nutritious proteins like shrimp and turkey.
The goal was to create fun and tasty recipes that families and friends can enjoy as part of their backyard cookout plans this summer. After considering several ideas, I locked in on three crowd pleasing and nutritious recipes that celebrate the tastes of the
summer season:
Grilled Southwest Turkey Burger Sliders:
Nothing says summer like grilling burgers in the backyard with friends and family. Brimming with flavorful ingredients like onion, cilantro, and cumin, and topped with fresh tomato, these Southwest Grilled Turkey Burgers are sure to impress.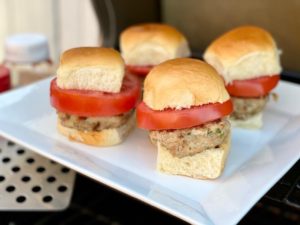 Grilled Shrimp Tacos:
I don't know about you, but Taco Tuesday is always a big winner at my house. Switch up your menu this summer with this recipe for Grilled Shrimp Tacos. The combination of fresh shrimp, mashed avocados, and succulent tomatoes served with a warm corn tortilla makes for some seriously good and fabulously fresh eats.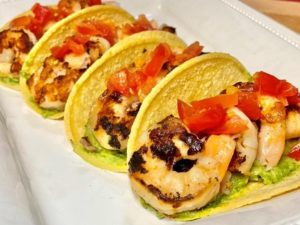 Red Pepper Deviled Eggs:
I'm always looking for a great side dish to bring to the cookout. Colorful and loaded with flavor, this recipe for Red Pepper Deviled eggs just screams summer to me. Packed with healthy protein and complimented by a red pepper punch, you'll have as much fun making them with your family and friends as you will eating them.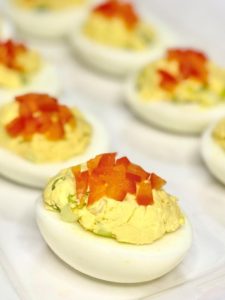 Click here to see the recipes.
Remember, summer cooking is all about enjoying time with family and friends, and I hope you have fun making and eating these GOLO-inspired recipes.
The Creative Kitchen™, LLC, teaches children about food and how to cook in a fun, safe, and educational manner. Targeting families with children ages two to teen, the company focuses on teaching, writing creative content and curriculum, special events, recipe development, spokesperson work, webisode production and consulting to present educational and entertaining content through food-related activities. The founder, Cricket Azima, is an expert in cooking for and with children. She inspires kids to express themselves creatively through food and cooking, while complementing lessons with traditional educational material such as social studies, math, arts, science, and more. Visit www.thecreativekitchen.com for more information.
Related posts