See my latest article on genConnect.com: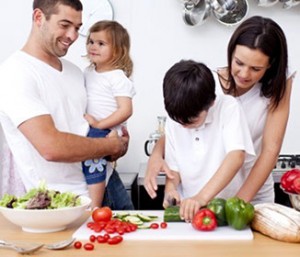 Your kid will only eat mac & cheese? Your little ones or grandchildren refuse to cook with you in the kitchen? With a growing obesity epidemic threatening our children's safety and nationwide concerns over the unhealthy foods served in school cafeterias, it's more important than ever for children to understand the difference between healthy and fatty foods.
genConnect recently caught up with celebrity chef Cricket Azima, an expert in cooking with children. Cricket is the author of Everybody Eats Lunch, founder of The Creative Kitchen, and she launched the Kids Food Festival, held in New York City every year to help fight childhood obesity. This year's event's was held in Bryant Park last in January. In this interview, Cricket divulges the benefits of getting kids to cook, tricks to get them to eat healthy, and the one kitchen utensil you need today to get them cooking with you in the kitchen…
genConnect: Please tell me a bit more about your cooking philosophy and the benefits of cooking with children.
Cricket: There is so much to learn from cooking beyond just the traditional perspective of nutrition. You can use cooking to supplement so many disciplines, like math, science, social studies, foreign language, art, geography. I have a four-year old son who has special needs and we do a lot of cooking at his school and I have developed a special needs cooking pre-school program because there is so much in cooking that helps with motor-skills development, following directions, socialization.