Summertime is a great time for fresh produce like tomatoes. Before they aren't at their peak ripeness, enjoy these 11 Delicious Ways You Can Caprese featuring alternatives to the basic Italian tomato, basil and mozzarella dish from our friends at Cooking Light. 
"This is a riff on the Korean rice dish bibimbap, in which various toppings are arranged over a bed of rice. Here, California Caprese bowl must-haves such as thinly chopped peeled avocado, tomato wedges, and fresh mozzarella cheese top brown rice."
"The classic combination of tomatoes, fresh mozzarella and thinly sliced basil never disappoints. Try it on our caprese pizza, for a bright combo of two Italian favorites, ready in just 45 minutes. An ending drizzle of balsamic vinegar brings out wonderful flavor and makes for a beautiful presentation."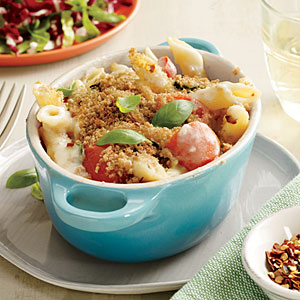 "The classic Italian salad gets a kick of creamy comfort in this deliciously light hybrid recipe. Fast and full of summery goodness, Caprese Mac and Cheese can be a main dish for vegetarians. You can use any short pasta you have on hand for this dish, such as large elbows or rotini, instead of the penne pasta."
The Creative Kitchen™, LLC, teaches children about food and how to cook in a fun, safe, and educational manner. Targeting families with children ages two to teen, the company focuses on teaching, writing creative content and curriculum, special events, recipe development, spokesperson work, webisode production and consulting to present educational and entertaining content through food-related activities. The founder, Cricket Azima, is an expert in cooking for and with children. She inspires kids to express themselves creatively through food and cooking, while complementing lessons with traditional educational material such as social studies, math, arts, science, and more. Visit www.thecreativekitchen.com for more information.
Related posts