What do Ronald Reagan, Steven Colbert, and Justin Bieber have in common? A love of Jelly Belly jelly beans! With 20 kid-approved flavors, the Jelly Belly Kids Mix is sure to make your whole family happy. From classics like Red Apple and Lemon Lime to the unique tastes of Buttered Popcorn and Orange Sherbet, this mix has a flavor for everyone. We especially love the not-too-sweet, not-too-tart Sour Cherry and Sour Apple! Jelly Belly Kids Mix comes in convenient 3.5 oz bags, and with Halloween right around the corner, they're sure to make yours the most popular house on the block!
From the Mouth of a Kid:
The flavors are so yummy! I like to eat 2 at a time to make even more flavors.
From the Eyes of a Parent: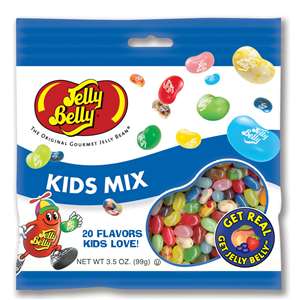 These jellybeans are the perfect treat for anybody, young or old. My kids love that there are so many different tastes in each bag, and I love that they're suitable for kids with various dietary restrictions. Plus, the Bubblegum flavor makes me feel like a kid again!
Flavorful Features:
The Jelly Belly Kids Mix contains twenty flavors that kids love!
Berry Blue, Blueberry, Bubble Gum, Buttered Popcorn, Chocolate Pudding, Cotton Candy, Green Apple, Lemon Lime, Orange Sherbet, Peach, Raspberry, Red Apple, Sour Apple, Sour Cherry, Strawberry Jam, Sunkist Lemon, Toasted Marshmallow, Tutti-Fruitti, Very Cherry and Watermelon.
The Icing on the Cake:
All of Jelly Belly's jellybeans are Kosher, gluten-free, dairy-free and vegetarian friendly!
Time to Eat?!

Jelly Belly kids mix make a tasty dessert or Holiday treat!
Good to Go?
Jelly Belly Kids Mix comes in perfectly portioned packets – great for a sweet treat on-the-go, an addition to any goody bag, or handing out to trick-or-treaters.
Mix it Up!
Try using Jelly Belly jelly beans as a topping for cupcakes, Halloween cookies, or gingerbread houses. They also make the perfect addition to an ice cream Sunday. 
The Creative Kitchen™, LLC, teaches children about food and how to cook in a fun, safe, and educational manner. Targeting families with children ages two to teen, the company focuses on teaching, writing creative content and curriculum, special events, recipe development, spokesperson work, webisode production and consulting to present educational and entertaining content through food-related activities. The founder, Cricket Azima, is an expert in cooking for and with children. She inspires kids to express themselves creatively through food and cooking, while complementing lessons with traditional educational material such as social studies, math, arts, science, and more. Visit

www.thecreativekitchen.com

for more information.
Related posts