Celebrating their 30th year in operation,

Lifeway Kefir

are pioneers in the probiotics industry with products made for the whole family. Probiotics are live microorganisms that may provide health benefits when consumed in adequate amounts. The benefits of these good bacteria may include supporting immunity and a healthy digestive system. Kefir is a tart and tangy cultured milk smoothie that is high in protein, calcium and vitamin D. And their

Lifeway ProBugs Organic Whole Milk Kefir

pouches provide all the benefits of their kefir but made just for kids!
From the Mouth of a Kid:
My favorite is the Strawnana Split because it tastes the best and I really like the name!
From the Eyes of a Parent:

ProBugs Pouches are my kids new favorite snack. The packaging is so cute and kid-friendly, my kids and their friends love to drink them! They're full of probiotics, which helps keeps their bellies and digestion normal and provide them with enough energy to take on any after school activities. Since these drinks come in pouches they're perfect to throw in my children's lunch boxes.
Flavorful Features:
ProBugs Pouches come in 6 fun flavors your kids will love;
• Pretty Plain ProBugs
• Sublime Slime Lime ProBugs
• Orange Creamy ProBigs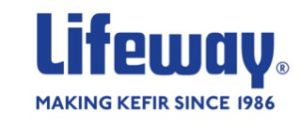 • Go Berry Pie ProBug
• Strawnana Split ProBug
• Kiwi Kale Critter ProBug
Time to Eat?!
Enjoy Lifeway Probugs pouches with your lunch for a creamy and refreshing drink or after school before a busy afternoon of activities.
Good to Go?

For parents on-the-go, ProBugs comes in a no-spill pouch! Take these pouches with you anywhere!
Mix it Up!
Try adding these pouches to your morning fruit and granola instead of yogurt or layer it into a tasty parfait!
The Creative Kitchen™, LLC, teaches children about food and how to cook in a fun, safe, and educational manner. Targeting families with children ages two to teen, the company focuses on teaching, writing creative content and curriculum, special events, recipe development, spokesperson work, webisode production and consulting to present educational and entertaining content through food-related activities. The founder, Cricket Azima, is an expert in cooking for and with children. She inspires kids to express themselves creatively through food and cooking, while complementing lessons with traditional educational material such as social studies, math, arts, science, and more. Visit

www.thecreativekitchen.com

for more information.
Related posts